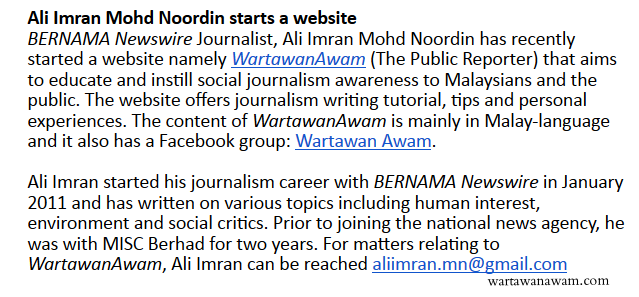 * * *
Segala puji dan syukur hanya buat Tuhan Semesta Alam, semalam (24 Mac) laman Wartawan Awam (WA) terima dua berita gembira.
Untuk post hari ini, saya kongsikan berita gembira yang pertama dahulu.
* * *
Telum Media , sebuah syarikat PR yang berdaftar di Singapura dan Hong Kong telah mewar-warkan tentang kewujudan laman wartawanawam.com melalui newsletter 'Malaysia Media Alert' bertarikh 24 Mac 2015.
Mereka mengumpul dan menyebar perkembangan terkini berkaitan pengamal media tempatan meliputi hal perlantikan baharu, kenaikan pangkat, perpindahan dan sebagainya melalui newsletter ini dengan kekerapan sekali seminggu.
Minggu lepas, saya dihubungi Pengurus mereka, Elyse Chong menyatakan niat mereka menyiarkan khabar tentang wartawanawam.com dalam newsletter bertarikh semalam. Saya setuju.
Untuk itu, Telum Media karangkan dua perenggan maklumat yang ringkas dan padat mengenai usaha kecil ini untuk mengajak kepada kesedaran dan kematangan 'social journalism' di Malaysia seperti yang saya paparkan di atas.
Buat saya, melihat WA diletakkan dalam halaman yang sama dengan nama-nama besar dalam industri seperti Bloomberg TV, The Edge dan NST adalah satu penghormatan.
Buat rakan-rakan yang minat dalam industri ini, saya cadangkan anda langgan newsletter ini. Anda boleh dapat maklumat segar yang mungkin membuka peluang untuk menapak masuk. Ada nama, emel dan nombor telefon mereka di situ.
Saya sendiri memang selama ini jadikan ia sebagai satu sumber untuk 'catch up' dengan perkembangan pantas industri yang tak pernah tidur ini.
Untuk melanggan, hantarkan emel ke alert@telummedia.com

Langganan adalah percuma.
Teks penuh newsletter 24 Mac 2015 disertakan di sini.
* * *
Have a recent or upcoming media move to announce?
Whether you have recently moved jobs, started a new role or want to announce the details of a new launch, Telum Media Alerts can help you update both the journalist and PR communities. Email Alerts Manager Elyse Chong at echong@telummedia.com for more details.
For the latest news on our alerts, as well as the journalists and publications featured, follow us on Twitter http://www.twitter.com/telummedia
For further information on Telum Media and our services, please email Director Matthew Law at mlaw@telummedia.com
New Straits Times announces new appointments
Mustapha Kamil Mohd Janor
Mustapha Kamil Mohd Janor has been named Group Editor of the New Straits Times (NST). He will manage the overall operations of NST while spearheading the revamp of the paper. Mustapha was previously the Managing Editor Business / Lifestyle, where he overlooked both the Business Times as well as the Life and Times pull-outs. He joined NST in 1989 as a Journalist before moving up as an Associate Editor in 2002.
Yushaimi Maulud Yahaya
Following the departure of Abdul Rashid Yusof, Yushaimi Maulud Yahaya is now Deputy Group Editor of NST. Prior to this, he was an Executive Editor for the news section at NST. Yushaimi was also an Editor-in-Chief at Malay Mail in his journalism career.
Cynthia Ng joins Bloomberg Television (Malaysia)
Bloomberg Television (Malaysia) has recently appointed Cynthia Ng as Presenter & Producer. She reports on business and current affairs. Prior to this, she was Anchor & Senior Producer at Astro Awani. Cynthia can be reached at cynthia@bloombergtv.my, her DID (603) 6142 3773 and her mobile (601) 2358 2822.
Sharmila Ganapathy has been promoted at KiniBiz
Previously a Journalist, Sharmila Ganapathy has recently been promoted to Chief Reporter at KiniBiz. In her present role, she covers various business sectors such as telecommunications, technology, energy and the capital markets. Sharmila was previously a Writer at The Edge and Sub Editor at Wolters Kluwer Asia Pacific. Congratulate her at sharmila@kinibiz.com, her DID (603) 7770 0002 (Ext. 207).
Malay Mail welcomes new Bureau Chief 
Malay Mail has appointed Jaspal Singh as the newspaper's Ipoh Bureau Chief. He worked with the Business Times between 1997 and 2002 as a Sub-Editor before moving on to the New Straits Times where he served until the end of 2014 as a Reporter. In his present role, he covers local and national news as well as current affairs especially in areas such as socio-economy, indigenous and minority rights, environment, politics and state policies. Jaspal can be reached at jaspal@mmail.com.my, his DID (605) 249 5665 and his mobile (601) 6521 0611.
Ashok Krishnan joins The Edge
Ashok Krishnan has recently joined The Edge as a Journalist where he writes for City & Country. Prior to this, he was a Journalist at Star Publications for his internship from May 2012 till August 2012 and from December 2013 till February 2014. Congratulate him at ashok.krishnan@bizedge.com and his mobile (601) 7627 0915.
Marie Claire Malaysia named new Deputy Editor
Marie Claire Malaysia has recently promoted Shakila Rajendra to the role of Deputy Editor from Features Editor. She now assists the Editor-in-Chief on all matters pertaining to co-ordinating the team and putting together the magazine. Marie Claire Malaysia is always on the lookout for women of style and substance to feature and Shakila overlooks interviews, photo shoots and the like. Shakila joined Marie Claire Malaysia in December 2013 and she also used to be with Malaysian Nature Society as Managing Editor from September 2009 to January 2012. Send your congratulatory message to Shakila at shakilarajendra@bluinc.com.my and her DID (603) 7952 7097.
Appointments at PC.com
PC.com, a publication of Reach Publishing Sdn Bhd has announced new appointments for its editorial team.
Alicia Mak
Alicia Mak has recently joined PC.com as Editor. Prior to this, she was an Editor at Business Media International, a Freelance Content Editor / Social Media Manager and also Editor of PC Gamer Malaysia. In her present role, she oversees the content and editorial team. Congratulate her at alicia@reach.com.my, her DID (603) 7880 2611 (Ext. 22) and her mobile (601) 7980 2595.
Matthew Yap
Matthew Yap has joined PC.com, a publication of Reach Publishing Sdn. Bhd., as a Writer recently. PC.com is a Malaysian consumer technology magazine that covers the latest in gadget reviews, gaming, consumer technology and enterprise news. There is also an online portal under PC.com at LiveatPC.com. He can be reached via email at matthew@reach.com.my, or by contacting him on his DID (603) 7880 2611.
Victor Yap now helms Amanz.net
Victor Yap has been appointed Chief Editor of Amanz.net this February. Prior to joining Amanz.net, he was the Deputy Editor at PC.com, since July 2012, where he assisted the Chief Editor in managing the tech news magazine and also the website. Victor first stepped into the journalism industry when interning at The Star's InTech section in January 2005 before moving over to Business Today as a Writer in July 2006. He made a career switch in 2009 and joined PR for a two-year stint. In July 2011, Victor returned to journalism when he joined NSTP eMedia as a Content Executive.
Congratulate Victor on the move on vic.amanz@gmail.com and his mobile on (601) 6391 5839.
Launched in January 2015, Amanz.net is the English arm for Amanz.my, and has its sights locked onto the news, thrills and spills of the ICT industry. This includes the latest on new gadgets and gizmos, insider details within the telco and enterprise scenes, and the buzz in gaming. All aspects from within and outside of the technology scene and the digital economy of Malaysia and the ASEAN region will be major focus points for team. For more information regarding Amanz.net, please visit the website http://amanz.net and the Amanz Facebook Page.

Hubert Burda Media begins operations in Malaysia
Hubert Burda Malaysia has recently started its operations in Malaysia, publishing Prestige Malaysia and August Man. It aims to be the country's leading publisher, focusing on dynamic editorial and innovative content across all its titles.
With a strong focus on luxury titles, Hubert Burda Malaysia will also re-strategize current business operations and undergo a rationalization exercise, which will see the closure of Lisa Malaysia with its last issue to be published in June 2015.
It is helmed by Publisher and Managing Director, Victor Omar Low, who reports to Melvin Ang, Group Publisher (Luxury Brands) and Managing Director of Burda's South East Asia operations.
Below is the updated editorial team:
Hubert Burda Media Malaysia's address is as below:
Hubert Burda Media Malaysia Sdn Bhd (Formerly known as HPB Press Holdings Sdn Bd)
1201-01, Tower 1, Wisma Amfirst, Jalan SS7/15, Kelana Jaya
47301 Petaling Jaya, Selangor Darul Ehsan
Malaysia
Tel: (603) 7887 3899
Fax: (603) 7887 3809

Ali Imran Mohd Noordin starts a website
BERNAMA Newswire Journalist, Ali Imran Mohd Noordin has recently started a website namely WartawanAwam (The Public Reporter) that aims to educate and instill social journalism awareness to Malaysians and the public. The website offers journalism writing tutorial, tips and personal experiences. The content of WartawanAwam is mainly in Malay-language and it also has a Facebook group: Wartawan Awam.
Ali Imran started his journalism career with BERNAMA Newswire in January 2011 and has written on various topics including human interest, environment and social critics. Prior to joining the national news agency, he was with MISC Berhad for two years. For matters relating to WartawanAwam, Ali Imran can be reached aliimran.mn@gmail.com
Freelance Update – Ellfian Rahim
Ellfian Rahim, an experienced editorial professional with over 20 years of experience is now seeking freelance opportunities. He is now a Freelance Writer and Translator, working both Bahasa Malaysia and English languages. Ellfian was previously an Editor at Clive Magazine, a Deputy Editor at Driven+ Magazine and also a Journalist at The Star. He can be contacted at torfungu@gmail.com, his mobile (601) 6618 1026 and his LinkedIn

Women's Health Malaysia is now launched
Mongoose Publishing has launched the first edition of Women's Health Malaysia on 21st March 2015. Women's Health Malaysia is a fitness and lifestyle magazine for women with a focus on living a balanced lifestyle in today's society. Visit its official website at http://www.womens-health.com.my/ for more information.
For editorial enquiries, please contact Editor, Sueann Chong at suchong@mongooseasia.com
For commercial enquiries, please contact Account Director, Abill Zackry at azackary@mongooseasia.com
For Marketing or PR enquiries, please contact Marketing Executive, Chew Chui Yi at cchew@mongooseasia.com
Best FM has been revamped
Best FM, a local radio station owned by Berjaya Group has rebranded itself with a couple of new things introduced. Haiza, Co-Host of the Best Pagi show, which airs from 6am to 10am with Zairi, is the first celebrity Presenter in its line-up. A number of roadshows are also in the pipeline to promote and inform the public about its re-branding campaign. Best FM is a 24-hour radio station that caters to the Malay-speaking crowd, offering music and entertainment in Bahasa Malaysia.

Collaboration between The Star and Sin Chew Daily on ePaper
From 23rd March 2015 onwards, bilingual readers will now be able to enjoy the articles in both The Star and Sin Chew Daily on a joint ePaper. The package called The Star-Sin Chew ePaper will allow subscribers to access both publications.

Mongoose Publishing is hiring
Mongoose Publishing is an award-winning Publisher, fast growing in the magazine publishing market. In 2015, Mongoose will have six flagship brands known to all Malaysian consumers: Esquire, ELLE, Expatriate Lifestyle, Men's Health, Women's Health and Time Out Kuala Lumpur. To join their talented, dynamic and enthusiastic team in sales, marketing, digital solutions, PR, editorial, design or administration, visit http://www.mongooseasia.com/Join-Us or send CVs to hr@mongooseasia.com
Telum Media Twitter Account
Telum Media has a Twitter account featuring the latest happenings and news in media and public relations around Asia. Follow @TelumMedia to get these updates. Requests for content to be tweeted can be sent to Haikel Fahim at haikel@telummedia.com
Telum Media
T: (65) 6653 5333
Email: alert@telummedia.com
Twitter: http://www.twitter.com/telummedia
Website: http://www.telummedia.com
The Quadrant on Cecil | 19 Cecil Street | Singapore 049704
To add your colleagues to our alerts, please email alert@telummedia.com
To unsubscribe, please respond to this Alert with the word UNSUBSCRIBE.

 * * *
Semoga Tuhan merahmati usaha kecil ini.
Sekian.
Ali Imran
Wartawan Awam